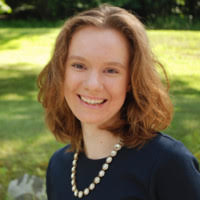 Full Name: Kathryn (Katie) Chiffer
Current Title and Company: Assistant Account Executive at Prosek Partners
Brief description of who you are professionally with concise accomplishments: 
As a communications professional, I leverage mass media as a vehicle to amplify brand visibility and advance business objectives for clients. I'm on a mission to help people and organizations make fewer statements and tell more stories. By combining the power of authenticity and stakeholder engagement with a narrative arc, I believe that public relations can educate minds and move markets.
I recently graduated summa cum laude from the Boston University College of Communication and Kilachand Honors College with a Bachelor of Science degree in communication and a minor in sociology. During undergrad, I put down the roots of my communications career at the award-winning PRLab, the longest-operating, student-led PR agency in the country. I started as an account supervisor at PRLab and then was promoted to president of operations, where I oversaw branding, communications, HR, operations, and strategic planning for the approximately 120-person agency servicing 27 clients nationwide.
Now, I'm thrilled to be starting the next chapter of my career as an assistant account executive at Prosek Partners, an independent communications and marketing firm servicing clients across the financial and professional services sectors.
Why did you become involved with TWToday?
I joined Tomorrow's Women TODAY as the not-for-profit's first Student Board Representative. In 2017, Lauren Pimpare and I created the Tomorrow's Women TODAY Student Membership program to give undergraduates a network of people who believe in their potential and mentor them so they achieve it. Our program recruits the best and brightest undergraduates and includes women of all majors and disciplines—from economics to hospitality administration to film and television—and everything in between.
The mission of the Student Membership Program is to offer mentorship, networking, and professional development opportunities that inspire undergraduates to hone the experiences, strengths, and values that differentiate them from the crowd.
How do you empower undergraduates to differentiate themselves?
NETWORK. From book signings to panel discussions, our programming connects Student Members to female leaders in the private, public, and nonprofit sectors. These networking opportunities offer students a framework for what success looks like in a variety of career paths.
SERVE. We strive to foster an ethic of service in our undergraduates by providing opportunities to give.
ENGAGE. Our book club is fueled by the belief that meaningful conversation leads to meaningful action which leads to meaningful change.
DISCOVER. M3 at TWT is our nifty nickname for the program's premiere mentoring initiative, Mutual Mentoring Matters at Tomorrow's Women TODAY. Our intention in creating this initiative is to empower students with the mindset of lifting other women up as they rise personally and professionally. So often, our culture portrays relationships between working women as competitive, immature, and superficial. By pairing each undergraduate woman with a Tomorrow's Women TODAY Member at this stage in her professional development, we hope she will fully appreciate the value of female collaboration and mentorship firsthand, and as such, pay it forward when she launches a career of her own.
And the final part of the discover pillar is our annual Spring Summit for Undergraduates. This Summit provides students with unparalleled access to senior leaders across industries during a day of interactive panel discussions, presentations and workshops. This event is open to all undergraduate women in the greater-Boston area, regardless of whether they are Student Members. Most recently, we partnered with Harvard Business School to present a Summit about the evolving 21st century workforce.
What are you hoping to achieve in your new TWToday role?
We're in the process of launching Tomorrow's Women TODAY's Post-Graduate Program that will support student members who have graduated undergrad in their transition from university to the workforce. I'm thrilled to continue to serve on the Tomorrow's Women TODAY board and expand my responsibilities to include leading both the Student Membership and Post-Graduate Programs. In this new role, I'm hoping to empower the next generation of female business owners, government officials and nonprofit executives through mentorship, networking and professional development programming. I'm incredibly proud of the community we've created at Tomorrow's Women TODAY through the Student Membership Program and look forward to extending it to Post-Graduate Members.
What do you do in your "free" time?
I enjoy hanging out with family and friends, practicing yoga, exploring new restaurants, reading and kayaking.
3 Core Values:
Authenticity – I strive to surround myself with people who know who they are, honor their commitments and stand strong in their convictions.
Courage – Maya Angelou once said, "Courage is the most important of all virtues, because without courage you can't practice any other virtue consistently." I find this quote deeply moving, and I do my best to put Angelou's wise words into action in my daily life.
Kindness – Everything I know about kindness I've learned from my Mom. She made me who I am, and she is the most selfless person I know. I try to emulate the light and kindness she radiates in our family and in the community.
Fun Fact: What Makes YOU, you?
My favorite place to spend downtime is somewhere near the ocean, and I love taking walks on the beach the entire year through—a little snow and single-digit temperatures don't deter this New Englander!