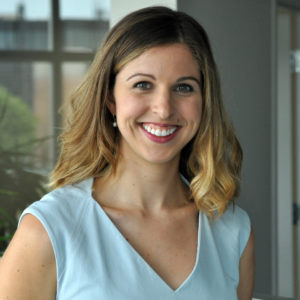 Full name: Katie Hyte
Current title & company: Co-Executive Director, Essential Partners (whatisessential.org)
Brief description of who you are professionally with concise accomplishments: 
I am the Co-Executive Director of Essential Partners, an organization that equips people to live and work better together in their communities and organizations by building trust and understanding across differences. In that role, I train and consult with folks wrestling with difficult conversations – around diversity and inclusion, political differences, strategic priorities, other differences in identity – and help them create a new path forward together…while also co-leading our organization strategically, financially, and collaboratively with staff, board and associates. As part of this work, I've spoken at the Aspen Institute and given a TEDx talk.  I have also been a Visiting Fellow and Lecturer at Tufts University and was awarded Harvard's Program on Negotiation (PON) Summer Fellowship to support my research and work with Search for Common Ground in Lebanon. Prior to joining Essential Partners, I helped develop and manage the first university-wide interreligious institute at Pepperdine University and served as a mediator and independent consultant in conflict resolution processes. I completed my master's degree in international negotiation and conflict resolution at Tufts University's Fletcher School, where my research addressed foreign policy in religious conflicts.
Why did you join TWT and what are you hoping to achieve as a member of the organization?
I must admit, I originally joined a bit begrudgingly at the recommendation of a dear mentor – as an introvert working in the nonprofit sector, I hadn't had a great experience in the past with networking groups. But I am so glad I trusted her enough to give TWT a chance. I continue to appreciate the opportunities to build relationships with members and lean on the expertise of individual women as a resource in my career. It is these relationships – and the social capital of this organization – that keeps me coming back. As a member, I'm grateful for the wisdom, experiences, and expertise members are open to sharing so generously. I also want to invest back in this community that has created space for women to connect and invest in each other.
What is one of your most proud professional moments and what are you most looking forward to professionally in the next five years?
As a Visiting Fellow at Tufts, I had the opportunity to teach a class called Dialogue, Identity, and Civic Action. It was my first teaching role, and I worked with a mentor to put together a syllabus that blended theory and practice – as part of the course, students actually had to design and facilitate a dialogue on an issue they cared about on campus and bring in people with different perspectives, identities, or experiences (in addition to their reading, reflections, and class discussions). I was so impressed with these students. They really jumped in – facilitating conversations on greek life, affordable housing, diversity, controversial speakers, even Israel-Palestine. I loved watching them invest in their community and translate what they were learning into immediate application. At the end of the semester, many of these students mentioned the course was one of their favorite courses – they reflected learning more about themselves, thinking differently about the world, and feeling like they could take what they learned and use it moving forward. I have no interest in a career in academia, but I'm so proud of the fact that I could take my knowledge and experience (and the readings of those wiser than me) and translate them into an experience that meant something to the folks involved.
In the next five years, I'm really looking forward to finding my footing as the head of a nonprofit organization. I've been in this role for almost a year now, and am stretching into so many new areas. I'm building fundraising skills, networking skills, and press skills more intentionally than I've ever had to before – all while working to maintain alignment and momentum among our stakeholders towards our strategic vision. I'm really looking forward to becoming more confident in these areas, and hopefully seeing that competence make an impact in terms of our work, visibility, and sustainability.
What do you do in your "free" time? 
I love traveling – which is a good thing, because my partner is Australian, and to see our families and friends, we end up investing a lot of our time off and savings to traveling to them. When not at work or traveling, I love yoga, hiking, and curling up inside with a good novel.
What are your 3 core values? 
I value humility – recognizing I will never be the smartest person in a room, and trying to learn what I can from others. And when I make a mistake, to be able to humbly own that mistake and figure out what I can do to make it right.
I value collaboration – I believe that when we are able to build teams and communities that actually invite and welcome different identities, experiences, and expertise, we're able to create better products, policies, and services. By moving slower and more intentionally on the front-end to build buy-in and ownership of something, we can move more quickly and effectively down the line.
I value connection. In our office, we hold ourselves to a social norm we call "connect before content." I love getting to know people, and making space for people to bring themselves to a conversation or team in a way that makes them feel included and valued. We might not all be able to bring our full selves to everything we do, so I don't force vulnerability – but I want to make space for people to name why they're struggling, energized, hopeful, skeptical, excited, proud…anything! And I believe that when we can make space for that, we also make space for people to take what they need to be effective. To stay home to care for a sick child, or to work over the weekend on a project they're excited about. To honor work-life balance and leave at 5 to take care of needs at home.
Fun Fact/What makes YOU, you?
I was raised in a military family! Before I left for college, I had moved a dozen times to places across the US. Even now, my folks are still active duty so visiting them changes every year or two. This background informed so much of who I am today – why I spend my life balancing making things more effective and efficient alongside making people feel welcome and included for who they are.