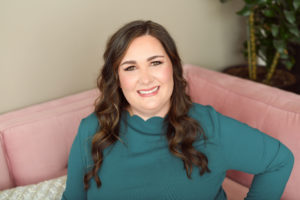 Full name: Lauren Gill
Current title & company: Co-founder of Mooring Advisory Group
Brief description of who you are professionally w/ concise accomplishments: As Co-Founder of MAG PR, I wake up every morning with one goal in mind: PR driven by passion and purpose.
Whether it's helping executives gain more visibility and evolve as thought leaders, or strategizing with emerging brands to leverage exposure for growth, my primary deliverable is to ensure that our clients feel supported and on track to become household names.
Prior to MAG PR, I supported the #1 tech media company in the world, and gained corporate experience in PR, event planning and business development. My professional background, paired with my enthusiasm for increasing client brand awareness and revenue, make me a publicist powerhouse.
I've been working hand-in-hand with Fortune 500 executives for much of my career, and have landed coverage for clients in renowned publications such as Forbes, WSJ, CNBC, Fortune, Huffington Post, TODAY Show, TechCrunch, and more.
Why did you join TWT and what are you hoping to achieve as a member of the organization? I'm looking forward to connecting with like-minded individuals who understand what it's like to be a business owner and the highs and lows that come along with it. Entrepreneurship can be lonely at times, so I'm always looking to connect with others and build meaningful relationships.  I am also interested in mentoring because I find it is valuable for both myself and my mentee.
What is one of your most proud professional moments and what are you most looking forward to professionally in the next five years? One of my proudest moments has been starting a new sister business to MAG PR. I can't say too much about it because we are in stealth mode, but stay tuned, because it's going to be HUGE! Having the confidence to take on another big project has shown me how much I'm capable of, and that growth can continue throughout your career, sometimes in unexpected ways.
What do you do in your "free" time? Hobbies, Interests…. Outside of the office, I'm hanging with family, or attending a fun, local fitness class (in normal times, at least)! I love spending time outside, taking my 2 and 4 year-olds to explore at parks or the beach.
3 Core Values: 1. Transparency — being open and honest about expectations, what we can deliver to clients, and how we're doing along the way. 2. Hustle — PR is more than a full time job, and has tight deadlines! It takes some serious hustle to do well. Good thing I love the fast paced nature of the biz! 3. Relationship building — relationships are everything in media relations. You need to pitch relevant, timely stories to journalists and publications, building trust, and building rapport along the way.
Fun Fact/What makes YOU, you? I have an ability to lighten any challenging situation with witty humor.  And I also LOVE proving people wrong ????