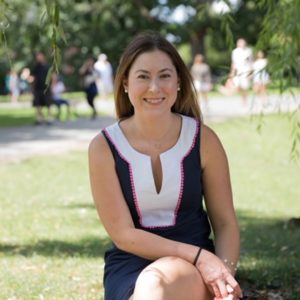 Full name: Maura Millette
Current title & company: Pharmacy Business Analyst, Boston Children's Hospital
Brief description of who you are professionally with concise accomplishments: 
As the Business Analyst for the Pharmacy at Boston Children's Hospital, I am responsible, in partnership with the Business Director, for managing fiscal activities and reporting within the department, including budget preparation, fiscal reports, dashboards, requisitions, and account management. I also serve as a project manager for several strategic enterprise initiatives and committees. My role allows me to interact with and serve as a liaison to a diverse group of colleagues, from nurses to administrators to lawyers to division chiefs, keeping my workday multidimensional and multifaceted, which I enjoy. I am a proud Double Shark, receiving both my BA in Psychology with a minor in Business Administration and a Healthcare MBA from Simmons University. I also recently became a Lean Six Sigma Green Belt.
Why did you join TWT and what are you hoping to achieve as a member of the organization?
I joined TWT about five years ago as a young professional starting out in my career at the recommendation of a mentor. I continue to be grateful to her every time I attend an event and meet women who help me to learn something new about myself, our community, my industry, another industry, or the world. My hope is that I am able to offer the same to my fellow TWT members, whether it be providing a nugget of wisdom, or by being an active listener and ally. I also look forward to making even more connections between TWT members and my personal circle, and continue to connect fellow women to mentors, friends, and opportunities that will creating lasting and bountiful relationships.
What is one of your most proud professional moments and what are you most looking forward to professionally in the next five years?
• I am proudest of my work when I choose to engage in projects that have been labeled as difficult. For my Lean Six Sigma Green Belt project, I took on a project that we believed to be a small-scale, easily controllable project with the objective of moving a paper-based process to an electronic process. In actuality, my team uncovered a tangled ball of underlying enterprise-wide issues related to compliance, revenue integrity, and politics that had not been fully examined or understood for years. While the process has been rewarding, there have also been plenty of dead-ends and Cathy cartoon like "ack" hair pulling moments, and I am proud of myself for sticking with the project instead of stopping where my initial project scope and official obligations ended. It would have been easier to hand it off to someone else at a higher level, but instead I harnessed my resilience and grit to reach a desired outcome for all stakeholders. As a result, we have reduced waste and improved efficiency, compliance, revenue, and employee and customer satisfaction across departments.
In the next five years, my goal is to expand my management and leadership skills at work and also within the mission driven, non-profit space, potentially as a board member.
What do you do in your "free" time? 
In my personal time, I can usually be found organizing friends and family for some kind of get-together, baking, drawing, kayaking, strength training, doing yoga, and trying to hone my green thumb skills for the sake of my patio garden. I also enjoy volunteering my time and administrative skills to raise money for several causes and organizations that are close to my heart; such as Community Servings, the Crohn's and Colitis Foundation, and the annual Boston Children's Hospital Eversource Walk.
What are your 3 core values? 
I value resiliency – There is always a solution, even if it wasn't the one you initially set out to achieve and even if it takes a little bit of McGuyvering.
I value compassion – Treat others as you would want to be treated and help lift others up when you can.
I value curiosity – Studies have shown that being curious makes us happier, better connected, smarter, and more creative – all things I aim to be!
Fun Fact/What makes YOU, you?
No matter what the situation is, I try to find a silver lining or a bright spot and I try to share that light with others. I've also been known for loving to share a good pun and one of my favorite books is "The Pun Also Rises: How the Humble Pun Revolutionized Language, Changed History, and Made Wordplay More Than Some Antics" by John Pollack. I'm proud to say that mine aren't (usually) groan inducing.